edit
News
Our Journey to 100 Years: Recreation on the Rise
To commemorate our milestone 100th anniversary, our series called "Our Journey to 100 Years" continues. In this series, we're taking you through OHB's history and highlighting people, events and notable moments that have gotten us to today. The information in this series is gathered from a book that was written by John Carter as a labor of love to chronicle the first 75 years of Omaha Home for Boys.
Today, our journey takes us to the late 1960's when recreation was on the rise for the youth who called OHB home.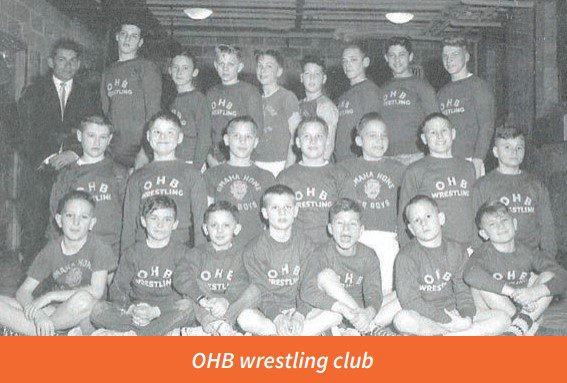 Recreation had always been a part of the boys' upbringing at the Home – watching films on Friday nights, playing sports in the empty lot adjacent to the Megeath House, and camping trips complete with roasted s'mores – but in the late 1960's several new recreational opportunities came to be.
One growing recreational activity that some boys enjoyed was the formation of their very own band. In our 75th anniversary history book, lead vocalist of the band, John Hlavka, shared that one of his fondest memories of his time at the Home occurred during the 4-H song contest in 1968 in which the band participated. John shared: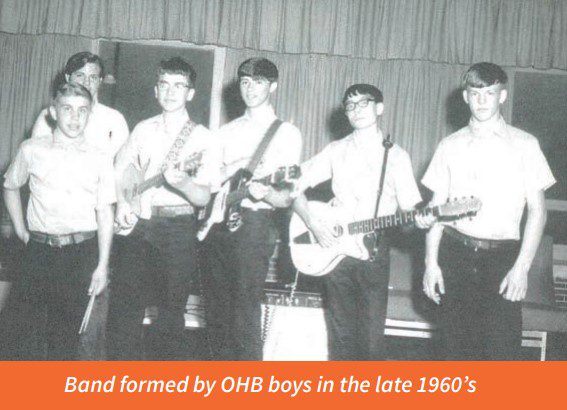 Remember the controversial times of the late 1960's – the hair styles, clothing styles and the music? Well, all the other song contest participants used a piano accompanist to sing traditional songs, such as "Battle Hymn of the Republic" and "This Land is Your Land."
I could hear the audience start to stir and rustle as they saw us setting up our piano, drum set, electric guitar and amplifier. We were quite a sight – Tony Westphalen in his jeans and tie dye T-shirt, Mike Westphalen who took off his shirt because it was so hot but did wear a necklace made of chains, and me with a pair of bell bottom pants made out of a wild pattern tablecloth.
Our songs were "Proud Mary," "Bad Moon Rising," and "Atlantis." The audience applauded long and loud and even joined us in singing. However, these songs were frowned upon by the judge of the contest, but the satisfaction we received from knowing how hard we had practiced and how well we were received by the audience far outweighed the white (last place) ribbon we received.
In addition to music, more and more activities were being offered all the time at the Home in the 1960's. Wrestling and basketball teams were entered into competitions in city leagues, a tumbling team was organized, the Scout program flourished, and a Jr. Optimist Club was formed.
The Home would even be gaining its very own recreation center. A $300,000 grant from the Eugene C. Eppley Foundation was approved to support construction of the facility. No longer would the recreational needs of the Home's growing boys have to be met in other buildings on campus or in other facilities around the city. Recreation was on the rise at OHB!