edit
News
Jacobs' Place Prepares Youth for Tomorrow
Have you ever wondered how our programs would use the winnings from the lottery? What would the program managers say to you, our faithful supporters? These are just a couple of the questions we asked the individuals who oversee our programs in our new series called Program Spotlight.
Today we're giving you the inside scoop on our Jacobs' Place Transitional Living Program. Who better to provide all of the details on this impactful program than those who work directly with the young adults at Jacobs' Place every day. Enjoy this Q&A with Jordan Ramsey and Carma Gunter, both of whom are Transitional Living Specialists in the program.
What is one recent program accomplishment that you're really proud of?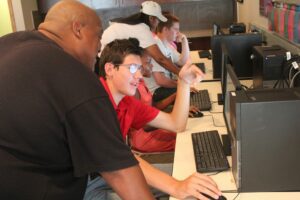 Jordan: I'm really proud of one longtime resident who recently completed our program and accomplished all of the goals that he set two and a half years ago when he entered the program. He managed to save a lot of money, developed many independent living skills, worked on getting his CDL, and set himself up to be successful in life.
What is your favorite thing about Jacobs' Place?
Carma: My favorite thing about Jacobs' Place is that the program fills a need within the community. If not for Jacobs' Place, many of our residents would have no place to go or be forced to live in unhealthy, unsafe environments.
How do you think your program most benefits your clients?
Carma: I think the program most benefits young people by giving them a safe place to live while they gather themselves.
How does Jacobs' Place benefit the community?
Carma: Jacobs' Place benefits the community by taking in youth and giving them the skills and knowledge they need to be productive citizens who are able to contribute to the community. By helping young people today, we truly do benefit our entire community for years to come.
What is one thing people might be surprised to know about your program?
Jordan: The young people that we serve come from a variety of places and backgrounds, and the majority of our residents have no place else to go. They would most likely be homeless without Jacobs' Place.
What are some changes or areas of growth you commonly see in clients during their time at Jacobs' Place?
Jordan: I most commonly notice a tremendous amount of growth in maturity.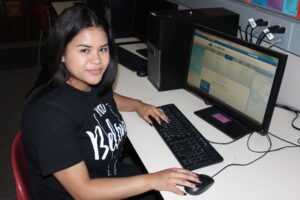 What's the coolest, most inspiring thing a client has ever told you about your program?
Carma: Many youth over the years have shared that Jacobs' Place was very helpful and provided them with things their family was not able to provide, such as emotional support.
If Jacobs' Place won the lottery, how would you use the winnings?
Carma: I would enroll each resident in the college program or trade school of their choice.
What would you like to say to those who support OHB?
Jordan: Thank you! Your support makes an impact for generations to come.