edit
News
Help bring holiday joy to our youth and families
As the holidays approach, many are reminded of the events that make the season so memorable – the hustle and bustle of preparing for special family dinners, buying gifts for loved ones and friends, and attending programs where little ones will be singing their favorite Christmas songs.
While there is much to be excited about this time of year, unfortunately, the holidays can also be a season of uncertainty, anxiety and isolation for many of the youth and families at Omaha Home for Boys. Many of our families have little children that they desperately want to provide a beautiful Christmas for, but their budgets won't allow for anything but the bare necessities. They long to create even the simplest holiday memories for their children, like making a gingerbread house or decorating a small tree, but the funds and resources just aren't there.
Today, you have the opportunity to bring the joy of the season to the youth and families at OHB by supporting Project Christmas Joy. Project Christmas Joy is our annual drive to collect both needs and gifts for all of the youth and families here at OHB.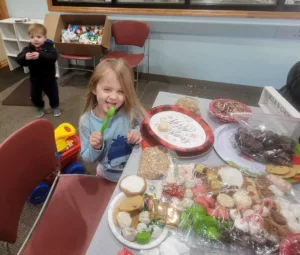 Your support today means that each youth in our programs will have at least one small gift for Christmas and that each young parent will be able to provide a gift for their little ones. These gifts bring hope, comfort, peace and joy to all who receive them. What a gift you are giving when you support Project Christmas Joy!
To give, simply visit OHB.org/joy. We have an Amazon Wish List where you can purchase gifts and ship them directly to us or you can give a monetary gift in support of the drive.
Please give now to help our youth and families feel special and loved, something that is so important and cherished this time of year. Have a wonderful Christmas and a happy, healthy new year! Thank you for your support.