edit
News
Farm Manager Comes Full Circle at OHB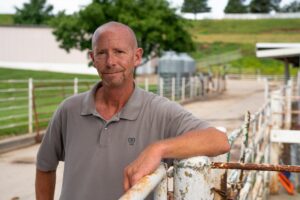 If you look up the definition of "coming full circle," you'll find that it means something has returned to its beginnings after a long series of events or changes. Kelly's story of coming full circle starts back when he was just 13 years old.
As a young teenager, Kelly was allowed to come and go as he pleased. "I lived at home with mom but she didn't control me very well, so I was out on the streets most of the time hanging out with friends and getting in trouble," shared Kelly.
Kelly's form of trouble went beyond a little mischief to a few more serious crimes and he was eventually removed from his home. This is where his journey at Omaha Home for Boys begins.
Kelly came to OHB in 1982. He lived in the Scott Cottage here on our main campus and worked on the lawn crew. One Thanksgiving he was invited to our farm for the holiday celebration and he fell in love with the wide open space, fresh air and livestock at the farm. From that point on, Kelly knew he wanted to live at the farm as soon as he was old enough. When he reached 9th grade, he was allowed to move to the farm and began working with the Farm Manager, Mike Pallas.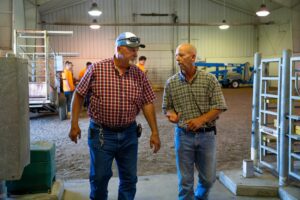 Mike became one of Kelly's greatest mentors and role models, teaching him responsibility and the value of hard work.
"I always wanted extra work," said Kelly. "I went out and did extra work with Mike because I saw him working hard and I wanted to be like that."
Kelly lived at OHB until he turned 18 and graduated high school. Staff here helped him get a property management job in Nevada, thanks to a connection to one of OHB's supporters. Kelly headed west but his time in the Silver State was short-lived. The work he was promised was less than he desired and he didn't care for the lifestyle.
Kelly returned to Omaha in 1987, and aside from a short stint away, has worked here at OHB ever since. He started his OHB career in our Rec Center but has spent the majority of his time at our farm, the place he fell in love with on that Thanksgiving Day so many years ago.
Because Kelly was once a youth here, he brings a unique perspective to the boys in our Residential Living Program who work on his farm crew.
"I think sharing my story as a boy here really helps me build rapport and trust with the boys," said Kelly. "They are usually shocked to learn that I lived here once just like they do now."
Kelly was recently promoted to Farm Manager and has some big plans for the farm. He wants to continue OHB's long-standing 4-H program but also wants to expand offerings at the farm. One of his goals is to teach the boys more technical skills and to introduce them to new trades, such as plumbing, electrical work, woodworking and mechanics, that they may want to pursue as a career.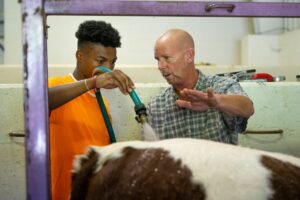 "I think it's really important to teach life skills like budgeting and goal setting that many of our other programs focus on, but I want to make sure the boys are also building life skills like how to work with their hands, how to change their oil, and how to change a tire," said Kelly.
Kelly has already started teaching the boys on his farm crew some plumbing basics and hopes to get them started on some woodworking projects soon. He eventually wants the boys to start building desks, dressers and beds that could be used in our homes here on campus.
Today, Kelly is a dedicated mentor to youth who are walking the same troubled path that he once did. His journey here at Omaha Home for Boys has truly come full circle.
Your Support Helps Today and Tomorrow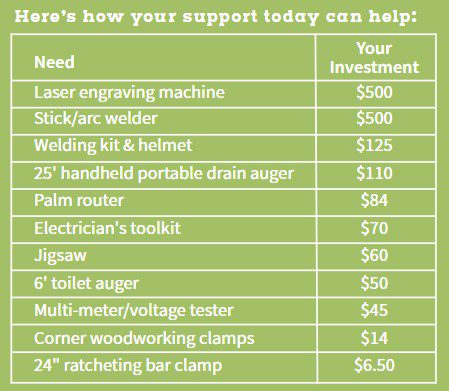 As you can see from Kelly's story, skills that are learned at Omaha Home for Boys are ones that benefit our youth their entire lives. As Kelly aims to expand offerings at the farm, he is in need of additional tools and supplies to help him introduce new trades to the boys.
Your gift today can help purchase these needed tools and supplies that the boys in our Residential Living Program will use to learn new skills and gain valuable hands-on work experience. Through their work at the farm, the boys are also learning responsibility and developing a strong work ethic, characteristics that will serve them well for years to come.