edit
News
Employee Spotlight: Meet Katie
This month we're shining our employee spotlight on Katie, our Reporting Specialist. She is part of our Direct Care Staff and joined our team about a year ago.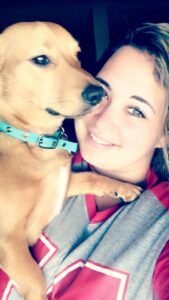 When you were five years old, what did you want to be when you grew up?
Initially I wanted to be a veterinarian, but I realized I would have to put animals to sleep, and I feared I would end up with my own zoo due to taking them all home. Then I switched to wanting to be a teacher.
What was your first job?
Bagging groceries at HyVee
What is one unique fact about you or unique interest you have?
I rarely watch TV. I am not subscribed to any services. I prefer to read books.
If you could have dinner with one person, dead or alive, who would it be?
I would love to have dinner with my grandpa again. He passed away in 2018, and I miss him dearly.
If you could have a superpower, what would it be and why?
I would want to be able to take pain away from people. Whether that is physical or mental – nobody should have to struggle.
If you could travel anywhere in the world, where would you go?
I would love to go to Turks & Caicos. HAVE YOU SEEN THE WATER!?!??!
What is one memory of your time at OHB that always makes you smile?
I took a group of youth to the movies. We went so that one youth that struggles with stuttering could practice speaking and paying for food. On the way home, that youth turned down the music and told me this was the best day of his life. He thanked me for believing in him and supporting him. It's really the small things and support that we can provide our youth that they potentially have never experienced before.
Want to work alongside Katie at OHB?
Watch our Careers page. Positions are posted as they become available.