edit
News
Employee Spotlight: Meet Dustin
This month we're shining our employee spotlight on Dustin, our Facilities Director who has been with OHB for 14 years.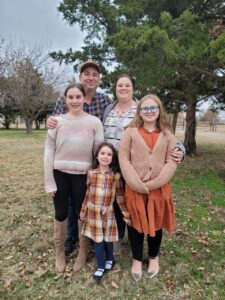 OHB Strong
Tell everyone a bit about your work here at OHB. What's a typical day like for you?
I have to laugh at this question. There is no such thing as a typical day in this job. Although it typically starts the same with a cup of coffee and checking emails, it doesn't take long for me to be on the move. It may be a major problem, such as a boiler shutting down and the facilities team is drastically working on getting it going before buildings start to cool down, or vice versa the chiller may go down in the hottest of days in the summer. Sometimes it's simpler things, such as a broken thermostat in the office that takes the temperature up to 102 degrees.  
What do you enjoy most about your career at OHB?
No two days are alike. I never know what to expect when I show up at work. Every day presents new challenges; that can be exciting.
What is your favorite place on campus? Why?
Probably The Mike Pallas Pavillion at Cooper Farm. It is so peaceful and there is so much untapped potential.  
All about you…
When you were five years old, what did you want to be when you grew up?
A farmer
What was your first job?
Hoffschneider Construction – I helped shingle roofs, drywall, etc. He also makes amazing custom cabinets.
What hobbies do you enjoy in your spare time?
I love to go camping with my family. I can't wait for warmer weather so we can get the camper out again.
What is a quote, mantra or affirmation you live by?
"I am careful not to confuse excellence with perfection. Excellence I can reach for; perfection is God's business."  Michael J. Fox
If you could…
If you could time travel, would you go to the past or the future? Why?
The future, I can read about the past online. The future is more exciting.
If you had a year off, with pay, what would you do?
Load up the camper and visit all 50 states and as many state parks as we could.
If you could master one skill you don't currently have, what would it be and why?
I love the sound of a violin. Someday I would love to learn to play a violin.
Tell us about…
Your favorite holiday
Christmas, I love the lights and it's so much fun with little ones at home.
Your favorite thing to do in Omaha
Go to the movies. I love movies.
The thing that always annoys you
Sticky floors in restaurant restrooms. It grosses me out.
This or That
Taco Tuesdays or Sushi Saturdays?
Why can't we have both?
Beaches or Mountains?
Neither, the shore of a crystal clear lake, secluded with no one around
Dog or Cat?
Dog
YouTube or Netflix?
Netflix
Big Party or Small Gathering?
Small gathering
Couch or Recliner?
Recliner
Want to work alongside Dustin at OHB?
We have a number of rewarding career opportunities available. Check them out!