edit
News
Employee Spotlight: Meet Brittney
We're shining our employee spotlight on Brittney, our new Independent Living Manager.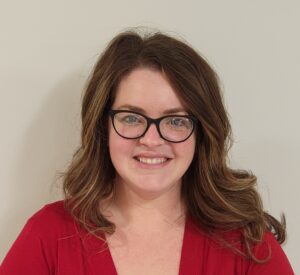 OHB Strong
Tell us a bit about your work here at OHB. What's a typical day like for you?
What I love most about my job is that every day is different. We get to work with young adults out in the community. We assist them in meeting their personal goals – anything from getting a state ID to finding safe and affordable housing. We also work with young people who are living in our independent apartments at our Branching Out campus. We help them develop basic living skills, such as keeping living spaces clean and paying rent.
What do you enjoy most about working at OHB? What keeps you motivated/excited?
I am very excited to be building a new team here at Branching Out and motivating not only our clients but also our amazing staff.
There are many nonprofits in Omaha, why do you choose to serve here at OHB?
I've worked with OHB for several years through another partner agency in the community. When I was looking to come back to work, OHB was the first place I thought of because I had such a great working relationship with them in the past. The friendly staff, longevity of the organization, and the opportunity to grow professionally is unlike most other agencies.
All about you…
Where did you grow up/where are you from?
I was born in North Dakota and moved immediately to San Diego, CA. We settled back home in Omaha, where my mother is originally from, when I was 10.
What was your first job?
My first job was a hostess at a German Restaurant. I waited tables and bartended all through high school and college until I started in the social work field.
What hobbies do you enjoy in your spare time?
My absolute favorite thing to do is travel. We recently packed all four of our kids in the car and drove to Tennessee, Georgia and Louisiana on a week long road trip. It is my goal to get to all 50 states by the time I'm 40. I am almost there!
If you could…
If you could master one skill you don't currently have, what would it be and why?
Technology and computer skills – I know the basic necessities but I hate even learning a new app on my phone. I wish I enjoyed it more since this is the world we live in.
If you could change one law, what would it be and how would you change it?
Decriminalizing drug use, especially marijuana. Develop other supports for those needing drug treatment instead of jail time.
If you could travel anywhere in the world, where would you go?
Fiji Islands – South East Pacific culture is very interesting to me and it's gorgeous there
Tell us about…
Your perfect day
Awaking feeling healthy and rested, touring somewhere I've never seen before, eating all the food I want, sunset and view, hot tub and drinks… all with the people I love most
The song that always puts in you in the mood to dance
Bruno Mars "Perm"
Your favorite thing to do in Omaha
Eat – we have a great food scene in Omaha
This or That
Netflix or YouTube?
Netflix
Phone Call or Text?
Text
While walking: Music or Podcasts?
Music
Dog or cat?
Dog
Ice Cream Cone or Snow Cone?
Ice Cream
Want to work alongside Brittney at OHB?
We have a number of rewarding career opportunities available. Check them out!