edit
News
Clinical Services and Our Community Connection
Our Clinical Services Program is one of the newest services offered here at OHB, yet the impact of this program is reaching far and wide in our community. The Clinical Services Program focuses on the mental and behavioral health needs of youth and families by providing therapy, structured activities, treatment recommendations and skill building.
In this insightful Q&A, Chief Operating Officer Brandy Gustoff, gives you a behind-the-scenes look at this program that goes beyond working with young people and families on our campus.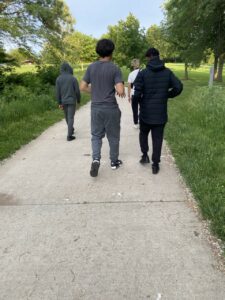 Q: What is your favorite thing about the Clinical Services program?
Brandy: I have so many so it is really hard to choose! I would sum it up by saying that my favorite thing about the Clinical Services Program, and all of our programs really, is that we have the opportunity to do something that could change the entire journey of someone's life.
Q: How do you think the Clinical Services Program most benefits its clients?
Brandy: The goal of the Clinical Services Program is stability. We help our youth and families achieve stability in the areas of their lives where it is most needed with a high emphasis on mental and behavioral health. Helping youth and families achieve stability has a positive ripple effect across our entire community – from the justice system, to the economy, to the workforce. I think that's pretty amazing!
Q: What is one thing people might be surprised to know about the program?
Brandy: We don't just work with young people and their families on our campus. We work with them in their home, school or whatever space they feel most comfortable in, making them feel at ease and removing barriers to transportation that may prevent them from seeking help.
Q: What is one recent accomplishment within the Clinical Services Program that you're really proud of?
Brandy: Recently we had a young man come to our Reporting Program that was failing numerous classes due to frequent suspensions. He started the program and slowly got used to the structure, learned new skills, and began diligent work on achieving his school credits. We are so excited to share that he just graduated from high school, something he didn't even see as a possibility when he started programming with us.
Q: What's the coolest, most inspiring thing a client has ever told you about the program?
Brandy: That we were their safe space. It was quite emotional to hear that we were the only place that this young person felt safe. It really spoke to me that we were reaching the primary goal that we have for all of our programs: a safe, comfortable place where a young person can work on their goals without fear of judgment, bullying or abuse.
Q: What is one goal for the Clinical Services Program in the future?
Brandy: If the hiring climate in our area changes, we want to increase our programming. We have the opportunity to impact so many more young people and families; we just need the staff to help us do it.
Q: What would you like to say to those who support OHB?
Brandy: Without your support, there's no way we could do what we do. Your support provides many basic necessities, like meals, clothes, transportation and housing, that allow youth and families to feel safe and secure. Clients can't focus on improving their self-esteem or addressing their anxiety if they're constantly hungry or worried about not having a place to sleep. Your support truly changes and saves lives!
Ready to help?
Your gift to OHB today can help connect youth and families with counseling, therapy and skill building in our Clinical Services Program, enabling them to become self-sufficient, productive members of our community.