edit
News
Branching Out Creates Second Family for Youth
Our Program Spotlight series gives you an in-depth look at the life-changing programs offered at OHB. Today, we're featuring our Branching Out Independent Living Program through an insightful Q&A with Brittney Rodriguez, Independent Living Manager at OHB. Branching Out has been assisting current and former foster care youth in our community with housing, education, employment and life skills development since 2010.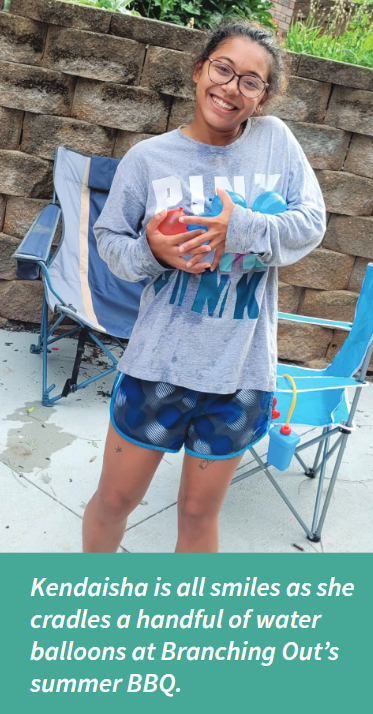 What is one recent accomplishment at Branching Out that you're really proud of?
I'm so excited that we were able to recently have a couple of successful social gatherings for our young people to further connect with each other and staff. It was great to be able to once again gather together in a social setting after being forced to take a break from in-person meetings and social events during the pandemic. Many of our young people attended these informal get togethers and not only were they having a ton of fun, but this also served as a way to get to know our youth outside of our more structured meetings and trainings.
What is Branching Out's biggest ongoing need?
The most requested items by our young people, and items that are hard to keep in stock, are essentials for babies who are newborn to about three years old. We also always need household items for young adults who are setting up their first apartments.
If you could tell our friends from across the U.S. one thing about Branching Out, what would it be?
Branching Out offers support to some of the least connected young people in our community. The resources and guidance that we offer to young people have a long-term, beneficial and lasting effect on not just the young person involved in our program, but on their entire family and our community. It truly creates a positive ripple effect!
What's the coolest, most inspiring thing a client has ever told you about Branching Out?

That we are a second family to them.
What is your favorite thing about the program?
My favorite thing about Branching Out is that we are a voluntary program. Our young people are here working with us because they have the desire to accomplish goals and reach their full potential, not because they are mandated to be here by another entity.
How do you think Branching Out most benefits your clients?
I think our young people most benefit from Branching Out because we provide a place to turn when they need consistency and support in their lives. We are here for them day in and day out when so many others have failed them.
What would you like to say to those who support Branching Out?
It doesn't seem quite adequate but I would like to say THANK YOU! I wish you could see their faces light up and hear the words of gratitude that our young people share when they reach one of their goals thanks to the generosity of so many people who choose to support this program. Your support is appreciated beyond measure!
If Branching Out won the lottery, how would you use the winnings?
Branching Out would put a big jackpot win to good use! We would further support the housing needs of our young people. It is incredibly difficult to find a job, concentrate in school, raise your children, or focus on future goals when you don't know where you will be sleeping at night.
What is one goal for the program in the future?
We would love to begin a transportation assistance program where we would help young people with a portion of their car purchase after they complete our transportation curriculum.