edit
News
Supportive Housing Helps Young Families Blossom
Today in our Program Spotlight series we're highlighting our Supportive Housing Program through an insightful Q&A session with Bailey Perry, Senior Director of Self-sufficiency at OHB. Our Supportive Housing Program provides safe, affordable, temporary housing to young adults and their children while they work on building the skills needed to live independently in the community.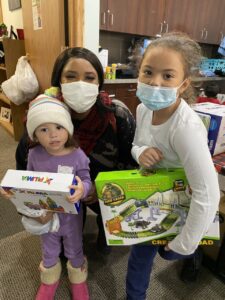 Q: What is your favorite thing about OHB's Supportive Housing Program?
Bailey: My favorite thing about Supportive Housing is that we are providing our residents with so much more than just a place to live. We are providing them with safety, security, and stability. Many children will take their first steps in our hallways, birthdays will be celebrated, and traditions will be created. I love it when I walk through the apartments and I get to hear the kids laugh, see the décor on the walls, and remember that this is their safe haven.
Q: How do you think Supportive Housing most benefits the young adults and families enrolled in the program?
Bailey: For some residents, living in our Supportive Housing Program is their very first experience with independence. For others who have been struggling to live independently, the program provides the pick-me-up and second chance they have been seeking. Either way, knowing that they have a place to call home and support from our team, residents can start to focus on other goals in their lives.
Q: How does the program benefit the community?
Bailey: One unique aspect of Supportive Housing is that we serve the entire family. Families are able to live together in a safe, supportive environment. Many programs in the community are for mothers and their children or are just for men. Here, the family is able to stay together.
Q: What is one thing people might be surprised to know about the Supportive Housing Program?
Bailey: Our apartments are fully furnished – from the couches and curtains down to the silverware and bathroom mats. When residents move in, we want their space to feel like a home. Having to purchase everything on their own for their apartment would be quite a financial burden for our residents. We eliminate that burden for them by providing a fully furnished apartment.
Q: What's the coolest, most inspiring thing a client has ever told you about Supportive Housing?
Bailey: One of our young mothers in the program told me that she had been struggling to find an apartment for a very longtime and had been unsuccessful because of past evictions that were on her record. She said that if it wasn't for this program giving her an opportunity, she knew that she and her children would be living in her vehicle because she had nowhere else to go. She said that no one would look past her previous evictions, but we did. She was so thankful that we gave her a chance.
Q: What are some changes or areas of growth you commonly see in residents during their time in Supportive Housing?
Bailey: After living at Supportive Housing, our residents can dream bigger. They walk away with up to two years of consistent rental history and a good reference – something so crucial to someone who has an eviction on their housing record. We can reset that trajectory and help young people move onto live in apartments that may have rejected their application prior to their experience in the program. We have even had a young person buy their own home after just eight months living with us.
Ready to help?
Your gift to OHB today can help furnish one or more of the apartments in the Supportive Housing Program, helping new residents feel safe, comfortable and loved as they begin their journey at OHB.