edit
News
Project Christmas Joy Partners Needed
Whether we are ready or not, the holidays are right around the corner. Can you believe it?
This year Omaha Home for Boys is holding its first ever holiday gift and essentials drive for the young adults in our programs. Project Christmas Joy will kick off on Giving Tuesday (November 27) and run through December 11. Our goal with Project Christmas Joy is to ensure that every youth in our programs experiences the joy of Christmas by receiving a gift during the holidays and we are seeking partners to help us reach this goal.
How YOU Can Help – Become a Partner!
As a Project Christmas Joy Partner, we ask that you participate in one or both of the following ways:
Act as a drop-off location for gifts and essentials. – This would include providing a bin, box or other container or area where the public could drop off donated items.
Host a donation drive. – This would include rallying support for Project Christmas Joy by asking employees, customers, clients and others to donate gifts, essentials or money.
Needed Items
A few of the most needed items include: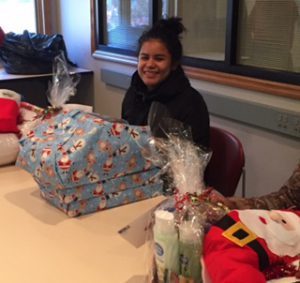 Diapers
Gift cards
Hygiene items
Cleaning products
Toasters, crockpots, pots and pans, flatware, dinnerware
Bedding
Laundry supplies
And here are a few gift ideas:
Gift cards
Stocking stuffers – nail polish, gum, gloves, body spray
Themed baskets for young adults – for the youth who loves art, music, sports, the outdoors, etc.
Before the drive kicks off, we will have a complete wish list of needed gifts and essentials.
Benefits of Being a Project Christmas Joy Partner
Absolutely hands down the number one benefit of being a Project Christmas Joy Partner is that you will be playing a vital role in helping young adults right here in our community feel special, loved and celebrated during the holidays. While sad to consider, the reality is that without Project Christmas Joy, these youth may go empty handed on Christmas.
Other benefits include mention of Project Christmas Joy Partners in promotional materials, such as Omaha Home for Boys website, social media, newsletters, press releases, etc. We will also provide marketing materials to help you spread the word about your participation.
How to Become a Project Christmas Joy Partner
Simply email RaeAnn Knoell, Marketing and Communications Manager at Omaha Home for Boys, and let her know you are ready to fill the hearts of area youth this holiday season by acting as a Project Christmas Joy Partner. RaeAnn can be reached at rknoell@omahahomeforboys.org.
Thank you!