edit
News
Our Journey to 100 Years: The Big Move
To commemorate our milestone 100th anniversary, our series called "Our Journey to 100 Years" continues. In this series, we're taking you through OHB's history and highlighting people, events and notable moments that have gotten us to today. The information in this series is gathered from a book that was written by John Carter as a labor of love to chronicle the first 75 years of Omaha Home for Boys.
Today, our journey begins in 1939 when the vision for the Home's future began to take shape.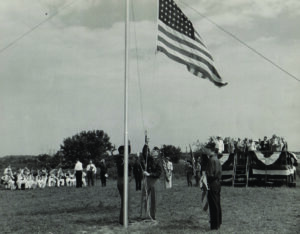 There's really no other way to say it: the Megeath House was getting old. It had housed three decades of the Megeath family prior to being the residence for the Home's youngsters. You can imagine what 60 young boys under one roof would do to a place!
So in 1939, a visionary report by a special committee of the Board laid the groundwork for the future of the Home. Part of this report stated that the Megeath House should be abandoned in favor of a new home on an acreage where the boys would live in cottages and not a dormitory setting. To implement the plan, many attractive parcels of land were considered. One was found to be particularly impressive. The 59-acre Solomon Farm was located on the southeast corner of 52nd Street and Ames Avenue, just two narrow brick roads on the outskirts of the city at the time. The farm was surrounded by cornfields and sat atop one of the highest hills around, which offered beautiful views in all directions.
Two years later in February 1941, a great opportunity presented itself. For the sum of $2,000 plus the Home's Elkhorn Farm, the property on 52nd Street was secured for the Masonic Home's new campus. Efforts to raise funds began, and in June 1941, the Masonic Boys' Home Band and city leaders led ceremonies to put up a flag at the hill's highest point.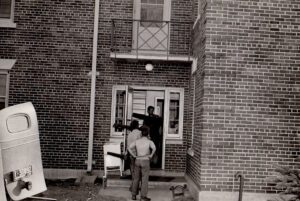 In early 1942, architect George Prinz designed a campus with residential cottages centered around a traffic circle on a winding road. World War II intervened, slowing building construction when certain building materials came in short supply, however, a nudge to keep construction moving came in November 1943 when a letter was received from the City Building Department concerning the "hazardous conditions" at the Megeath House. It was time to move!
1945 came, the war was nearing an end, and the construction schedule was met. The big day took place in July when the boys boarded a bus, carrying with them their clothing and personal possessions, and left the Megeath House for the first three cottages at the new campus.
The Home had found its "home" at last!