edit
News
Omaha Home for Boys Welcomes Hundreds for 95th Anniversary Celebration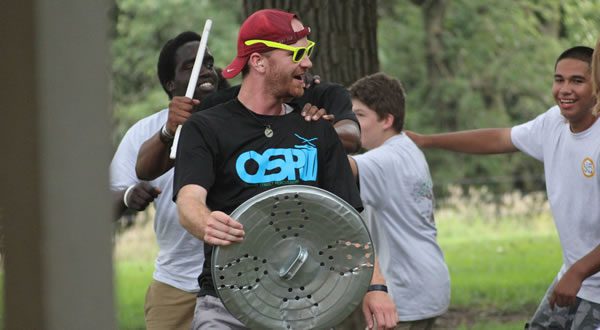 More than 230 people gathered at Cooper Memorial Farm and the Omaha Home for Boys' 52nd and Ames campus Saturday and Sunday, August 1-2, to commemorate 9-plus decades of strengthening and supporting youth, young adults and families.
Former boys, young and old, recent and past, "Came Home" to visit cottages, tour the campus and welcome back old memories and create new ones.
From start to finish, the weekend proved a great success – and for the former boys returning to the Home, some for the first time in many years – a reminder of their formative years that helped shape them into the men they are today.
"It was great to reconnect with old friends and welcome back our alumni, some of whom hadn't been back to the Home in decades," said President and CEO Jeff Moran. "We really couldn't have asked for a better opportunity to hear new stories and see new and familiar faces at our celebration. I think everyone really enjoyed themselves."
In addition to lots of food and games, local band, 5 Man Trio, performed live and the Omaha Storm Chasers' mascot, Stormy, made an appearance to the delight of young and old. Omaha Street Percussion wowed the crowd with a fantastic performance to end the afternoon of fun Saturday.
Sunday included a worship service in the Home's Wurdeman Learning Center followed by a brunch in the Dining Hall. The day ended with a competitive but friendly game between "Home" boys from the select basketball team and members of the Omaha Police Department.
Among those alumni who returned were Frank Budwill, who was a boy in the late 1930s and early 40s and lived at the Megeath House near Hanscom Park; Harold Noble, the son of the Home's first superintendent (1921-34) James Noble, who was born and lived in the Megeath
House, the Home's second location prior to its current campus; and the Reichwein brothers, Bob, Richard and Chuck, who were at the Home together in the 1960s and very early 1970s.
"This reunion was sort of a dress rehearsal for our 100th Anniversary in 2020, and it was very successful," said OHB Major Gifts Officer Brandon Breiby, who coordinated the reunion. "We're very encouraged by this weekend and expect even greater things five years from now."