edit
News
Melanie McCain Joins OHB as Senior Director of Finance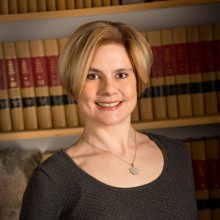 We are excited to share that Melanie McCain has joined our team at OHB as the Senior Director of Finance.
Melanie has many years of experience in the field, including her work in management, accounting and human resources previously. Before coming to OHB, Melanie worked at Tigerpaw Software where she held the positions of Controller and later Director of Finance. Prior to that, she was the Accounting and Human Resources Manager at Suiter Swantz PC LLO. Melanie holds an MBA with an Accounting Concentration from Bellevue University.
Melanie's commitment to our community shines through her work with the Nebraska Humane Society where she has been a volunteer since 2013. Through her volunteer work, she has acted as a veterinary assistant, foster pet parent, transporter and adoption counselor. Melanie and her husband, Luke, are currently fostering a mother cat and eight kittens.
Outside of her career and volunteering, Melanie is an avid runner. She has completed six full marathons and countless half marathons, with plans to run the Bank of America Chicago Marathon for the fourth time in October and then the IMT Des Moines Marathon the very next weekend. She also loves to travel with her husband and cheer on the New Orleans Saints.
Melanie shared that one of the things that drew her to OHB was the opportunity to give back. "I joined OHB because I wanted to join an organization that makes a difference in the community," said Melanie.
As the Senior Director of Finance, Melanie will lead all aspects of budgeting, forecasting and financial planning for OHB as well as act as Controller.
Please join us in welcoming Melanie to Omaha Home for Boys!