edit
News
Making Smiles Part of Success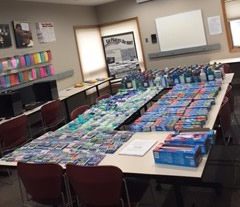 Brushing our teeth. Something so simple and mundane that we most likely all take it for granted. But think for a minute how you would feel if you couldn't afford toothpaste, much less an expensive dental exam, or you'd never been taught proper oral hygiene. It doesn't exactly put a smile on your face does it?
These are the exact obstacles that many young adults in the Jacobs' Place and Branching Out programs face, but the recently implemented Smiley Face Dental Program helps break through one of the most significant barriers to proper oral hygiene – the cost.
The Smiley Face Dental Program was implemented in 2016 through two generous grants awarded to Omaha Home for Boys. A $2,500 grant from Maximus Foundation and a $10,000 grant from the Dr. C.C. and Mabel L. Criss Foundation allowed us to kick off the program that teaches the essentials of lifelong oral care to youth.
The Smiley Face Dental Program teaches the basics, such as good oral hygiene and the importance of diet and a healthy lifestyle in maintaining good oral health, while also expanding to help youth enroll in benefit and insurance programs to ensure proper medical and dental coverage. The program also equips youth with the skills needed to find a caring dental provider and funds an annual preventive dental exam with x-rays and cleaning.
Recently, staff at Jacobs' Place shopped for oral hygiene essentials to assemble 140 dental care kits containing toothpaste, floss, a toothbrush, fluoride mouthwash and a handout detailing proper dental care. The kits will be provided to all youth currently enrolled in Jacobs' Place and Branching Out and will be given to all new residents upon admission.
"Improved oral health and a more attractive smile enhance the confidence and self-esteem of these young adults greatly improving their social interactions," said Brandy Gustoff, Program Manager of Transition Services. "Armed with a more attractive smile, these young adults will truly be dressed for success."
About Jacobs' Place
Jacobs' Place is a transitional living program that serves as a resource for young adults age 17-20 who struggle with a lack of housing, support, education and independent living skills. The program provides a skills-based structure, safe environment and caring staff to help youth gain the skills needed to move toward self-sufficiency.
To support the young adults served at Jacobs' Place, please contact the Omaha Home for Boys' development office to discuss giving options or make an online donation.
(402) 457-7165