edit
News
Employee Spotlight: Meet Sophia
We're shining our employee spotlight on Sophia Harris, a Youth Advocate in our Day and Evening Reporting Programs.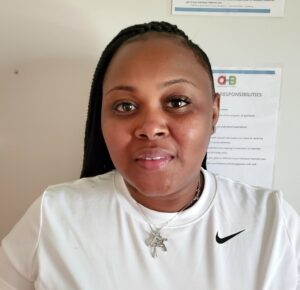 OHB Strong
What do you enjoy most about working at OHB? What keeps you motivated and excited?
What keeps me motivated about working with youth at OHB is the fact that I, at one point and time, was just like them. I share a similar background with most youth that we help here. Being able to tell my story about my past and upbringing helps me when building solid relationships with the youth. The youth see that I can relate and understand some of the things they endure; that's what makes my job here so easy. It helps them to see that no matter how your life started, they are the author and can change the cycle. It also gives them someone they can trust and rely on.
What keeps me excited is that no day is the same. Each youth is so different and unique. Regardless if they come from the same background, the challenges of building trust with them excites me and encourages me to keep going. It also lets me know that I am making a difference one kid at a time. Their success is my success; that's the best part of working in this field.
Of what are you most proud during your time at OHB?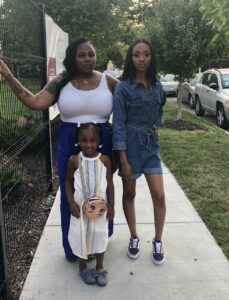 Hearing the youth tell me I helped them or I motivated them, is the best part of being here. To hear a kid tell me, "Ms. Sophia, I got the job!" because I helped them prepare for an interview or build their resume to apply for jobs. Hearing, "Thank you for encouraging me to finish school," is great. To see a youth come back after graduating and say, "Because of you I did it." That makes me most proud!
There are many nonprofits in Omaha, why do you choose to serve here at OHB?
I chose OHB because it serves the youth in my community. North Omaha is my home and where I was raised. OHB stands out for me because it provides homes and a safe place for kids who were and are just like the younger me.
All about you…
Who was your most significant influence or mentor as a child?
My mommy (grandma). I was raised by my grandma. Her strength and wisdom is impeccable. She still is active in her community, the community I grew up in, and in the church till this day. At 88 years old she doesn't miss a beat. She amazes me. I love her. She is my SHERO!
Where did you grow up/where are you from?
I am from Omaha. I grew up on the north side of Omaha, Nebraska.
What do you consider to be your greatest accomplishment (personal or professional)?
My kids. I have two daughters Tay'Lor (21) and Tarajii (7). They are my reasons why. They are the reason I changed the path I was heading down when I was younger. Being able to change the cycle and raise my daughters is one of my biggest accomplishments because I changed the cycle. I went through so my kids would never have to.
If you could…
If you could have lunch with anyone, dead or alive, who would it be and why?
Cicely Tyson. I admire her and her story. She reminds me of my mom.
If you had a year off, with pay, what would you do?
I would travel. I would just pack the car and hit the open road. Each state line I crossed into I would stop and take pictures, try some food that the city/state is known for, and shop of course.
If you could master one skill you don't currently have, what would it be and why?
The piano. I love music. I find the piano as one of the best instruments ever. Just to be able to learn the keys would be dope!
Tell us about…
Your favorite holiday
Thanksgiving – the food, I can eat thanksgiving food all the time. The turkey, dressing, mac and cheese, and the desserts, yes, thanksgiving is my ultimate favorite holiday.
Your #1 guilty pleasure
My guilty pleasure is shopping and music. I really have an addiction to shopping. I think I need AA for shoppers.
Your absolute perfect day
A perfect day for me would consist of pampering and shopping for myself.
This or That
Taco Tuesdays or Sushi Saturdays?
Taco Tuesday! Who doesn't like tacos?
Rich Friend or Loyal Friend?
Loyal friend, I'm very loyal. Money comes and goes. A good friend is rare.
Online Shopping or Shopping in a Store?
Online shopping, to be able to shop from home was the best thing that was ever invented. I love the Amazon and UPS trucks.
Want to work alongside Sophia at OHB?
We have a number of rewarding career opportunities available. Check them out!