edit
News
Employee Spotlight: Meet Mike
We're shining our employee spotlight on Mike Pallas, Farm Manager of OHB's Cooper Memorial Farm, who has been with us for nearly four decades!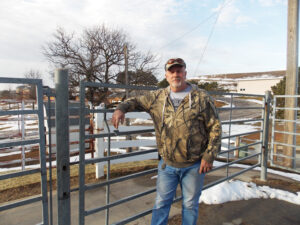 OHB Strong
Tell us a bit about your work here at OHB. What's a typical day like for you?
First, I have to make sure Kelly Armbrust does the chores and gets other duties as assigned completed 🙂 Then I make sure the livestock is cared for and make sure the farm and facilities are well maintained, but most importantly, I need to have jobs ready for the boys. I sincerely want them to be successful out in the "real world." We stress that work ethic will help them in the future.
Of what are you most proud during your time at OHB?
Having former youth stop by and reminisce about days gone by and expressing that being at OHB was a positive influence in their lives
What is your favorite place on campus? Why?
The farm because I truly enjoy working outdoors
All about you…
What is your most treasured memory?
After 39 years at OHB, there are many…going to all the 4-H shows with the boys, taking boys skiing in Colorado, taking them camping in the Tetons, and working with some very dedicated and fun-loving employees.
Where did you grow up/where are you from?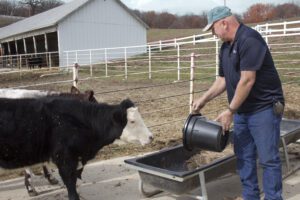 Lawrence, NE – Population 350
What hobbies do you enjoy in your spare time?
Hunting and I plan on taking up fishing in a few months
If you could…
If you could acquire any super power, what would it be and how would you use it?
I don't need any super powers. I have all I need. Just ask my wife.
If you had a year off with pay, what would you do?
Hang out with my grandsons. They are a hoot!
Tell us about…
Your favorite holiday
Christmas
Your #1 guilty pleasure
Playing cards
Your perfect day
Sunny, 82 degrees, slight breeze and good friends
This or That
Ice cream or snow cone?
Ice cream
Phone call or text?
Text
Football or basketball?
Football
Couch or recliner?
Most definitely recliner!
Work hard or play hard?
Both
Want to work alongside Mike at OHB?
We have a number of rewarding career opportunities available. Check them out!