edit
News
Employee Spotlight: Meet Jodi
This month we're shining our employee spotlight on Jodi, the Chief Strategy Officer on our Leadership Team. She has been at OHB for 11 years.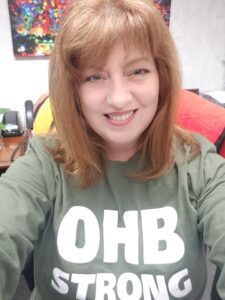 OHB Strong
Tell us a bit about your work here at OHB. What's a typical day like for you?
Like many places, there are no typical days at OHB – and that's one of the things I love about working in a nonprofit environment. One day I'm planning and organizing the work of the Board and the next I'm meeting with team members about strategy and how best we can serve staff and on another I'm working with managers on policies and procedures for their departments. Variety!
What do you enjoy most about working at OHB?
Moving the agency into the future. While we honor our past here at OHB, the sky is the limit if we modernize and improve our agency services while expanding our continuum of care. We are continuously asking ourselves, "How can we help? What will move this forward? How can we make this happen?"
Of what are you most proud during your time at OHB?
I'm proud to have been part of the work to restructure and modernize our Board of Directors and I'm proud to have been part of the rebranding effort – it had been a goal of mine since I arrived here to freshen up the logo and bring the OHB brand into its next 100 years! Working with our Brand Strategy Director to select an agency partner and speaking with our Board and Community to gather their thoughts was exciting work.
All about you…
Where did you grow up/where are you from?
A military brat, I was born outside Philadelphia in Bristol. I grew up in Augsburg, Germany; Ft. Knox, Kentucky; and Baumholder, Germany; before my family settled in El Paso, Texas, when I was 12.
What was your first job?
I was an usherette for the El Paso Diablos baseball team – at any given game, I could be found taking tickets or helping people find their seats.
What is a quote, mantra or affirmation you live by?
Ancora Imparo – Latin for "I am still learning."
If you could…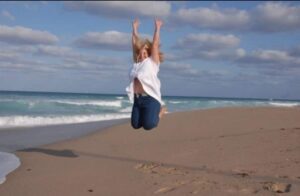 If you had a year off, with pay, what would you do?
I'd be exploring southern France, Spain and Italy, and enjoying the food and people-watching.
If you could change one thing about yourself, what would it be and why?
Physically, I'd prefer a smaller nose! Otherwise, I'm continuously working on improving my patience and I'd love to be more math-inclined!
If you could travel anywhere in the world, where would you go?
I'd like to travel back to Ireland with my Mother. Her family is from County Donegal and there is a decaying "castle" that still belongs to the Daugherty clan (my mother's maiden name) where family reunions are held every decade or so.
Tell us about…
Your #1 guilty pleasure
Good food and wine!
The song that always puts in you in the mood to dance
Good Vibrations by Marky Mark & The Funky Bunch and Private Joy by Prince
Your favorite restaurant in Omaha
The Stokin' Goat
This or That
Netflix or YouTube?
Netflix
Taco Tuesdays or Sushi Saturdays
I enjoy both, but if forced to choose – Taco Tuesdays!
Beaches or mountains?
Beaches
Facebook or Twitter?
Facebook
Big party or small gathering?
Small gathering
Want to work alongside Jodi at OHB?
We have a number of rewarding career opportunities available. Check them out!