edit
News
Crisis Stabilization Helps Teens Heal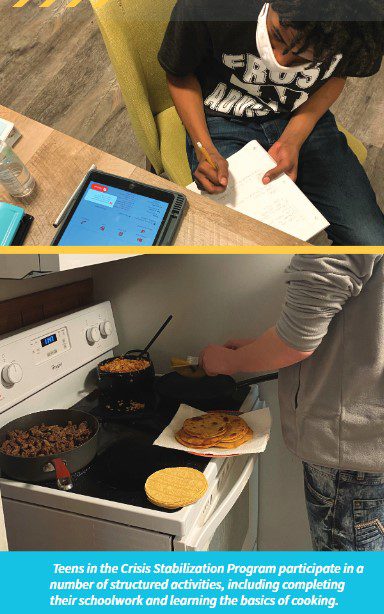 When a critical service gap was identified in the Omaha community, OHB stepped up to the plate! Thanks to your generous support, our Crisis Stabilization Program opened in June 2020, and the program has already made a significant impact on teens who find themselves in an emergency situation.
Our Crisis Stabilization Program provides short-term, therapeutic services to help teens who are in the midst of a mental and/or behavioral health crisis in which they need to be removed from their home. The program serves as an alternative to placing youth in a detention center and helps young people achieve stabilization so that they can either transition home or to another agreed upon placement. Teens in the program need and receive various therapeutic services, all of which go above and beyond what is typically offered when a youth is placed in a detention center.
Last year alone, 34 teens and their families were aided by the Crisis Stabilization Program. Some common issues addressed with the young people in the program included alcohol use, gang affiliation, marijuana use, and discord in family relationships.
There is no better way to truly convey the positive impact that the Crisis Stabilization Program is having on struggling teens than by introducing you to Corey.* Corey recently came to our program very determined, but unfortunately, his determination was directed at a very negative result. He was referred to us due to excessive drug use, primarily marijuana, and because he was skipping school regularly. During Corey's intake to the program, he told his specialist that he had absolutely no intention of stopping his marijuana use. He was determined to continue his destructive dependence on drugs.
We accepted Corey into our Crisis Stabilization Program and connected him with our on-campus Therapist, Family Support Worker, and Skill Builder, all of whom helped him address the reasons why he was using drugs and taught him coping skills to assist in stopping smoking. He also participated in daily therapy groups, life skills groups, and recreation groups that helped him learn and practice skills that would make him stable and successful beyond his time in the program.
Throughout Corey's 60 days in the program, he didn't miss a single day of high school and completely changed his outlook on using marijuana. He was able to consistently pass drug screenings and even expressed that he no longer wanted to smoke, a statement completely contrary to what he shared on the day of his intake!
Today, Corey continues to refrain from smoking marijuana, has a much-improved relationship with his mother, attends school regularly, and has channeled his determination into achieving his goal of graduating high school.
Thank you for your support of Omaha Home for Boys. You can't put a price tag on helping a teen like Corey overcome addiction to become a happier, healthier young man!
Ready to help?
Your gift to OHB today can help other teens, just like Corey, create a brighter future when they're connected with one of our life-changing programs.
*While the story shared is a true account of an OHB client, we have changed the youth's name and identity in order to be respectful of their privacy.