edit
Answered Prayers: Israel's Story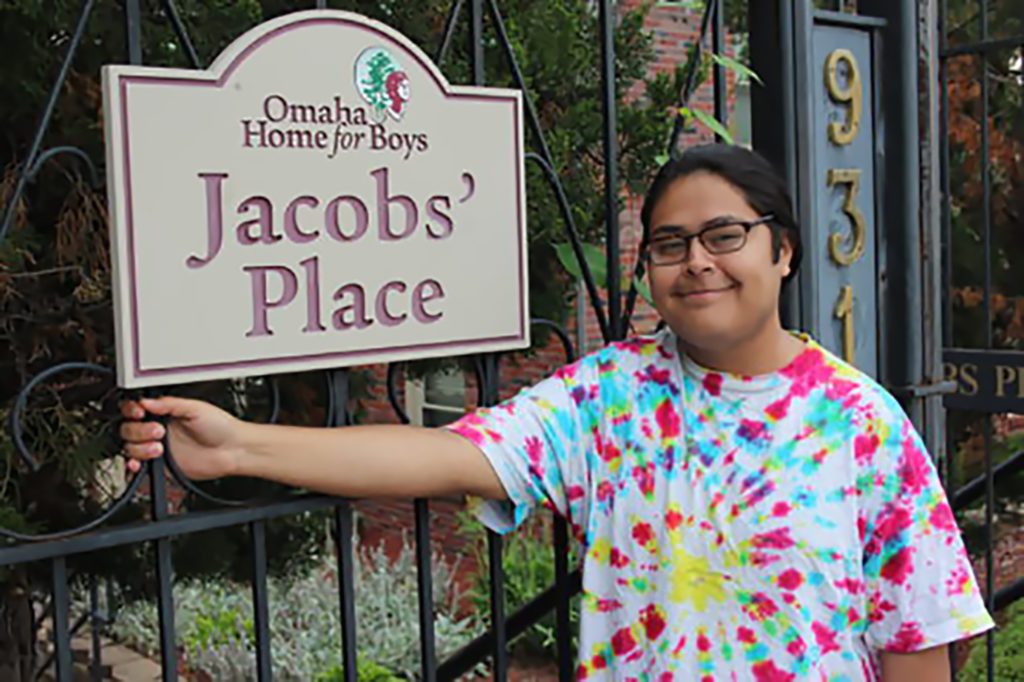 Answered Prayers: Israel's Story
Prayers – possibly the only thing that kept Israel going when everything around him seemed so bleak.
He was a high school graduate but had no plans for the future. After being homeless for a bit, he was living in a cramped, overcrowded apartment with friends of his father. Being unemployed and out of school often found him home alone with no goals or hope that anything would change any time soon. He desperately wanted a job but lacked the resources, transportation and confidence needed to take that step. He had no guidance, no positive role models and no one to talk to. Depression and despair were creeping in.
"I kept praying about it. I really wanted a job," said Israel. "I kept praying and kept praying. Then out of the blue, I got a message from Sarah."
The message from Sarah Hansen, Independent Living Specialist at Omaha Home for Boys, would prove to be the answer to all of Israel's prayers. Sarah had worked with Israel four years prior when he was a young teen living at Omaha Home for Boys in the Residential Living Program and the two had remained in contact via Facebook. Sarah was aware of some of the struggles that Israel was facing so she invited him to participate in Branching Out, Omaha Home for Boys' Independent Living Program.
"When I asked Israel if he would like to join our Independent Living Program, he seemed so relieved, almost as if he had been
waiting for someone to just reach out to him for years," said Sarah. "He needed help and he didn't know where to turn."
Israel decided to join Branching Out where he didn't simply participate; he grew to thrive in the program. He completed courses in money management, cooking and public transportation. Branching Out helped Israel obtain his vital documents, such as his birth certificate and social security card, and aided him in getting his learner's permit. And finally, Israel's prayers were truly answered when he developed a resume, created a professional email account and obtained interview attire from Youth Mart, all of which led to him landing full-time employment.
"Israel has grown tremendously from the first day I met him at the age of 16," said Sarah. "His maturity level and work ethic seem to stand out to me the most. All he needed was a familiar face and someone to believe in him to bring out his confidence and drive to complete his goals."
Israel remained in the Branching Out Independent Living Program for three months while he accomplished many of the goals he had set for himself. Then he moved on to Jacobs' Place, Omaha Home for Boys' Transitional Living Program, where he continued to learn and perfect the skills needed to live independently.
The hopelessness and unhappiness that once consumed Israel's life are a thing of the past. His future goals include obtaining a management position at the local restaurant where he has become an exemplary employee, saving money to purchase a vehicle, and utilizing one of the Home's scholarships to pursue a degree in culinary arts.
"Before Sarah called me, I was going downhill in my life. I hated being at home doing nothing all the time," said Israel. "Now I'm actually happy. I'm really lucky. It feels like it was just meant to be."
YOUR GIFT HELPS!
Israel's story is just one of the hundreds of stories we hear from struggling youth every year, but with your support, we can help these young adults find their happy endings. Your gift to Omaha Home for Boys helps turn despair into hope. It helps bring trusted mentors and caring adults into the lives of these youth. Your gift changes and saves lives.